The pear-shaped diamond is also known as the "tear diamond"
A pear diamond is a combination of round and marquise cuts.
A pear-shaped diamond ring is the most popular and romantic diamond gift. In modern times, Richard Burton gave Elizabeth Taylor a 69-carat pear-shaped diamond.
SDG Diamonds are the house for the pear-shaped engagement ring in Dallas. We offer an amazing collection. You will find this special ring that will begin your engagement with the best memories to last an entire life!
We are ready to make memories with you!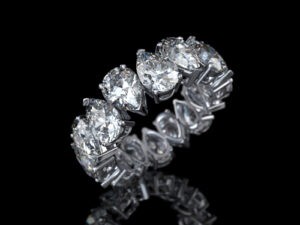 This pear-shaped Eternity ring features pear-shaped diamonds going all the way around the band for maximum coverage. The Eternity ring is fully customizable with
Read More »