The pear-shaped diamond is also called the "teardrop diamond"
The pear-shaped diamond ring is a combination of round brilliant and marquise cuts.
Pear-shaped diamonds are the most famous and romantic diamond gift. In modern times, the 69-carat pear-shaped diamond given by Richard Burton to Elizabeth Taylor.
The pear-shaped diamond is a fiery cut with lots of wonderful sparkle and flash.
A Pear-shaped diamond ring lends a sophisticated air to both the simplest and most elaborate ring setting.SDG Diamonds is The House of Pear-shaped Engagement Ring in Dallas. We carry a fabulous collection of pear-shaped diamond engagement rings. You will find that one special ring that will start your engagement off with the best memories to last a lifetime!
we are ready to make memories with you!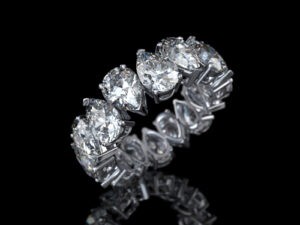 This pear-shaped Eternity ring features pear-shaped diamonds going all the way around the band for maximum coverage. The Eternity ring is fully customizable with
Read More »