Cushion-cut diamonds feature square or rectangular faces and rounded corners. Since its origins more than 200 years ago, the Cushion cut diamond has increased in popularity and attractiveness. The style was also known as "pillow cut" because it resembled a pillow. Experts say this stone shape is for women who understand that their past shapes their future. But never too scared to take it.
At the same time, Cushion cut engagement rings are the most common ring forms worldwide. It is popular among grooms due to its rounded corners, which give it a vintage appearance.
Characteristics of Cushion Diamond
The first diamond cutting techniques are where the Cushion cut started. Despite how old it is, discerning diamond collectors are once again favoring it. Besides, some people called the Cushion cut an "old new classic." So, let's discover how this is accurate with its characteristics.
The cushion cut has a lovely glow because these diamonds are softer than other cuts. You may choose rings with more facets in this cut for a shinier appearance. Symmetry is essential. Assemble the four corners as closely as possible.
The cushion cut has excellent color quality. Consider any of these options if you're an unconventional bride. For example, suppose you are looking for a one-of-a-kind engagement ring. Yellow, blue, or pink Cushion, cut diamonds are stunning.
The cushion cut is also an excellent match for brides who like the look of the old days. Even in some modern settings, these diamonds still look great.
The rounded edges make the ring look great in white gold, platinum, mixed metals, and rose gold.
Sparkling Cushion  Diamonds
Sparkling Diamonds is the place to go in Dallas when planning to buy an engagement ring. There are many Cushion, cut engagement rings to choose from in this reputable jewelry store. You will find the perfect ring to start your marriage. Your Cushion diamond-cut engagement ring will always remind you of the best times in your life. We have a vast selection of engagement rings and other jewelry too.
So, let's talk and plan your once-in-a-lifetime adventures. Then, give an excellent surprise for your future wife. Diamond cut that doesn't have any flaws!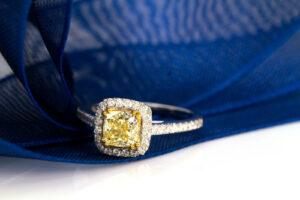 The classic cushion cut Diamond ring will speak to your heart. The charming cushion-cut Diamond ring features a 2.40-carat cushion diamond. This style can be
Read More »