Princess-cut stone in an engagement ring is elegant and will never go out of style. A princess cut diamond is a valuable square rock with sharp corners and a flat bottom. When seen from an angle, it looks like a pyramid. The length-to-width ratio is between 1.05 and 1.10, which makes the stone look bigger.
Dallas women love Princess Cut engagement rings because they are beautiful and have unique designs. Many contemporary brides are boldly displaying their traditional taste. Princess cut engagement ring is a fantastic option. If a princess receives a diamond cut, she would be ecstatic!
Think about what modern brides like about this Princess cut engagement ring.
Why should I choose a princess diamond?
Brides today are selective about what they want and need. So, your man needs to know what kind of jewelry you like. For example, many women like Princess cut stones because they have the best parts of different cuts in one style.
Here are other reasons for the Princess cut engagement ring's popularity:
Princess cut diamonds are more stylish and modern than brilliant round diamonds.
With a Princess cut, flaws in the setting are easy to hide. In addition, the stone's ability to scatter light in all directions makes flaws less obvious.
 Where can I buy an Amazing Princess cut engagement ring in Dallas?
Square diamonds with many facets make up the princess cut; We offer the princess cut, as a popular engagement ring choice. Due to its unique shape and brilliant brilliance.
SDG Diamonds have a superb selection of Princess cut engagement rings in Dallas, that are sure to be the right fit for your special someone.
So, check out our engagement, our diamond collections, and our unmatched customer service.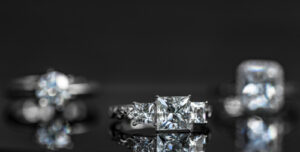 A beautiful Princess-Cut Three-Stone engagement ring to give to that special someone in your life. The Three-stone engagement ring represents the past, present, and future,
Read More »