A marquise-cut diamond has existed for centuries! It is a classic and historic shape that captures hearts thanks to its fancy shape, in addition. Marquise diamond also called boat-shaped, football-shaped, but also eye-shaped, without a doubt Make the fingers look thinner and lengthier. Overall, the Marquise diamond ring is a perfect choice for couples in search of a one-of-a-kind engagement ring to celebrate their love and loyalty. In most cases, Marquise cut diamond has almost 60 facets in its rounded central shape and sharp ends.
The Marquise diamond rings provide perfect fullness and glittering style. 
SDG diamonds are ready to create memories together.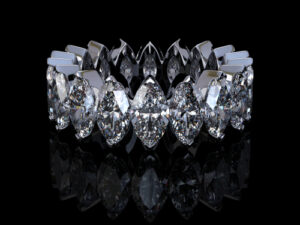 This ring gives a modern touch to the classic Marquise Cut diamond. The center diamond is accented by round diamonds cascading down both sides of
Read More »