Henry Grossbard, a master gem cutter in New York, made the first Radiant cut diamond in 1977. But it didn't do very well. Then, after a few years, it became a big hit. During the 1980s, brilliant cuts, like the radiant cut, became more popular. Jewelers were in high demand for this rare cutting style at the time because it was hard to do.
They are still popular today. Many grooms choose the Radiant cut engagement rings to propose to their future brides.
What is a Radiant Cut Diamond?
When looking for an engagement ring, Radiant-cut rings are a great choice. Perfect for those who want an emerald-cut diamond. You can get the sparkle of a brilliant round cut with the modern elegance of a square or rectangle shape. For curious, radiant-cut diamonds have eight sides.
A Radiant cut, shaped like a square or rectangle. It has a brilliant-cut design on the crown and pavilion. Radiant cut diamonds are some of the cheapest diamond shapes you can buy anywhere in the world. Radiant cut diamonds come in different sizes, colors, and clarity levels.
What to Consider When Buying Radiant Cut Engagement Rings?
What to think about when buying Radiant cut engagement rings? First, ensure the proportions are right, whether you choose a square or a rectangle. Experts say that the standard size of a rectangular radiant is 1.25. But values between 1.20 and 1.30 will be the ideal range to ask your jeweler. The best ratio of a square-shaped Radiant-cut is 1.00.
Then, if you want to shine, you should use an open-prong setting. It is because it will help the light bounce around better. You can dress up your dazzling by putting fancy-shaped stones in a halo around it. The Radiant cut makes a versatile diamond that is great for everyday use. If you choose a larger radiant cut diamond, choose a setting with six prongs or a bezel for the most security.
Final Say
Sparkling Radiant cut engagement rings can serve as inspiration. Visit Sparkling Diamonds, a trusted jewelry store in Dallas. Discover the ideal ring for your bride by getting ideas from our selections of engagement rings. Because we understand the importance of your proposal, you are welcome to talk with us about your preferences. Sparkling Diamonds will do our best to get you the engagement ring of your dreams!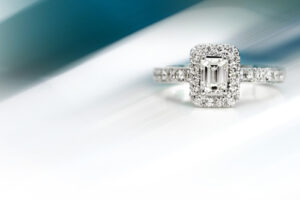 A diamond engagement ring offers immense appeal and can turn your proposal into a grand event. Since women love their diamonds, it is more attractive to
Read More »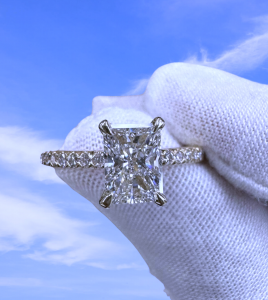 The intricate and unique design of this Fabulous Radiant Cut Diamond Ring will make you fall in love. The center stone is a beautiful, elegant
Read More »