One of the most well-liked shapes for diamonds is the Emerald cut. It is stylish, modest, and elegant. A diamond with an Emerald cut might be square or rectangular. Additionally, an Emerald Cut diamond shines out more in an engagement ring for giving total carat weight. For the majority, it is superior to a round or princess-cut stone. Finally, an emerald shape will bring clarity, better than all other shapes.
Solitaire, Pave, Three-Stone, Baguette, East-West, and Halo are standard settings for engagement rings with Emeralds. Many are also interested in the Bezel, Statement Prongs, Split Shank, and Emerald Side Stones. Finding the ideal diamond might be difficult, but Emerald-cut engagement rings are a good option.
Top Three Settings for Emerald Cut Engagement Rings
Solitaire
The Solitaire is a plain band with a single emerald-cut diamond set. It's perfect for a bride who wants a plain wedding band. Solitaire is the best choice for some brides. They believe they would rather spend money on a bigger center stone than a fancy setting. It also keeps the stone's sophisticated and understated look.
Bezel
A bezel setting is one in which the metal goes around the stone. It can highlight the symmetry and geometry of an emerald-cut diamond. As a result, they are giving the illusion of a larger stone. You can also rely on the durability of these mountings. It ensures that your stone will remain in place. A bezel-set engagement ring goes well with a wedding band that is flat and plain.
Three- Stones
In a set with Three-Stones, Emerald diamonds also look great. The two smaller stones on either side of the center Emerald help to draw attention to it. It also makes it look more beautiful. The Pavé style is one of our favorite ways to pair a Three-Stone engagement ring with a wedding band. If you want the most sparkle, this is a great choice.
Find Us
Call us to discover the best and the most unique ring. We will make the best memories for the beginning of your engagement! Make your most spectacular proposal a reality with the help of Sparkling Diamonds. You'll discover a wide variety of Emerald cut engagement rings. Our Sparkling Diamonds experts are ready to help you create memories!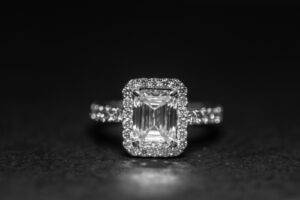 The Emerald diamond will highlight clarity better than any other shape. Shop our favorite Emerald cut halo engagement rings design Simply Stunning! This Emerald cut
Read More »