The Emerald cut diamond is one of the most popular cuts. it is subtle, sophisticated, and elegant.  Emerald cut diamond comes in a rectangular shape but is available in the square as well.
An emerald shape will highlight clarity, better than any of the other shapes.
 An Emerald Cut Engagement Ring usually appears bigger than other shaped diamonds in the same carat weight.
We carry a fabulous collection of Emerald cut engagement rings.
You will find that one special ring that will start your engagement off with the best memories! Providing you with the Best Service Imaginable 
SDG Diamonds are ready to make memories with you!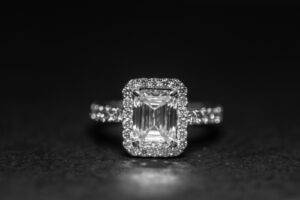 The Emerald diamond will highlight clarity better than any other shape. Shop our favorite Emerald cut halo engagement rings design Simply Stunning! This Emerald cut
Read More »