A Pear-shaped diamond ring is the most romantic diamond present. Richard Burton presented Elizabeth Taylor with a 69-carat pear-shaped diamond. A tear diamond is another name for a Pear-shaped diamond. Many believe that these jewels symbolize joyful or bridal tears. Thus, it became acceptable as an engagement ring option. Because the Pear shape is unique, it often shows that the person who wears it has a strong will, is self-sufficient, and has their style.
Diamonds with a Pear shape are hybrids of the brilliant round and emerald cut.  Every stone in a Pear-shaped engagement ring is different. Many people also feel it has spiritual significance because of its long history. Whatever the story behind it, a Pear-shaped engagement ring is a good investment.
Everyone Wants A Pear Shaped Diamond Ring
Pendants and earrings featuring Pear shaped diamonds are trendy. It is because of the stones' unique, asymmetrical shape. Additionally, it evolved into the perfect engagement ring diamond. You can find Pear shaped diamond rings in contemporary and ancient jewelry shops.
Setting an old Pear-shaped stone in a modern halo mounting is one of the more modern ways to use it. Not only does it look modern, but the halo also highlights the diamond. Also, many jewelers choose a matching Pear-shaped diamond or a gorgeous colored stone. As a result, it creates a "bypass" ring. It is where the point of one stone fit into the round belly of the other stone.
Where Can I Buy the Beautiful Pear-Shaped Diamond Rings?
At Sparkling Diamonds, you can get a Pear-shaped engagement ring. You will find the best deals at SDG Diamonds. Search us online, and we are your "jeweler near me" in Dallas, Texas.
With us, you will have the most fantastic shopping experience ever. We also ensure that each client receives appropriate care. Our team is grateful that we can do this kind of service to our valuable clients or couples.
We look forward to making memories with you!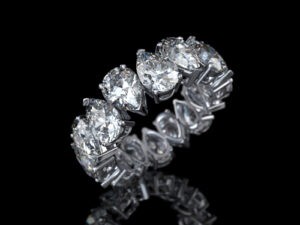 This pear-shaped Eternity ring features pear-shaped diamonds going all the way around the band for maximum coverage. The Eternity ring is fully customizable with
Read More »